I lived with an old women who cooked me delicious, huge meals  mainly with steak. If she was single and on Tinder I would have married her.
Overview
One awesome reason to backpack Vinales. Staying in a casa, they're more common than hostels, we were treated like royalty. I was here with my cousin who is Spanish, she conversed with the old lady about everything. She learnt her feelings towards Fiddel (he'd died the night before we arrived, selfish) the pros and cons of Cuba and why she loved her simple life.
I understood bollocks all until my cousin translated, it was far from what I expected. For one, she loved Fiddel. So much so she was still crying about his death. It was also crazy to hear how things like boxer shorts and socks were hard to come by and seen as a precious item to grab when you could. She had an ill husband and was seeking some new ones for him so I gave her all mine, all-be-it not so new, he needed them more than me. I figured commando for two weeks until Panama was fine.
Activities
When I wasn't TRX'ing in her garden. We went out horse riding across cigar fields, hired bikes and paced along dust hillside roads and smoked cigars, well tried to smoke cigars. I did't really have a clue how to they tasted lovely though as the leaves had been rolled through honey before being shaped.
The place is tiny in area but huge in lush green amazement. We strolled the streets and spent each night drinking on the porch front of the casa with our Cuban grandma.
There was an incredible beach close by (above) ranked one of the top 10 in the world called Playa Punto Larva, by god it was beautiful. Scribbled down a little post on that here and why you should go.
I was going to question this fella

Gin from the horse back gin tour
---
Do's
Find your perfect casa. Take your time strolling and seeing different ones. There aren't many restaurants here so a good casa is your key as you'll dine and chill with them.
Hire a bike and explore
Do the horseback riding cigar tour
Visit a gin farm
Take the time to learn from your casa host and tip them well
Get here via bus, old GTA Miami Vice style car or back of a truck
Ask your casa host to help organise things for you
Don'ts
Get lost in the hills. Plan your bike ride or walk
Eat at the cheap restaurants, stick to your casa cooking
---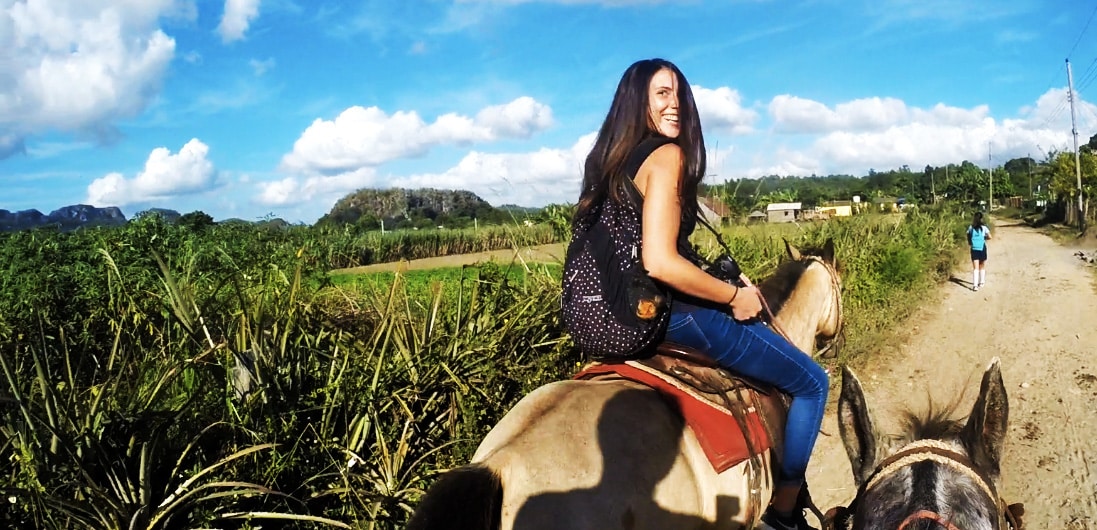 ---
Tips for healthy eats
There's not really anywhere to buy food, you need to rely on your casa host and nuts / dried fruit snacks.
Green teas and mate are good to have here along with a green super food powder you can add to a protein shake after a workout to help with the vitamin in take and detoxifying. I'm a bit of a sucker for not feeling at my best each day if I'm not eating green veg, which you won't get much of in Cuba, so the powder ticks the health kick box.
How to get meat for that protein hit
---

Where to exercise
Our casa had a small little garden. I spent many a morning or late eve exercising in it looking over green cigar hills. Make sure your casa has one too.