FREE TRIAL: The TRX Suspension Trainer Total Body Transformation Program
"Build Lean Muscle And Visibly Transform Your Body Using 'Muscle-Centric' TRX Suspension Trainer Technique And A Progressive Step-By-Step Program!"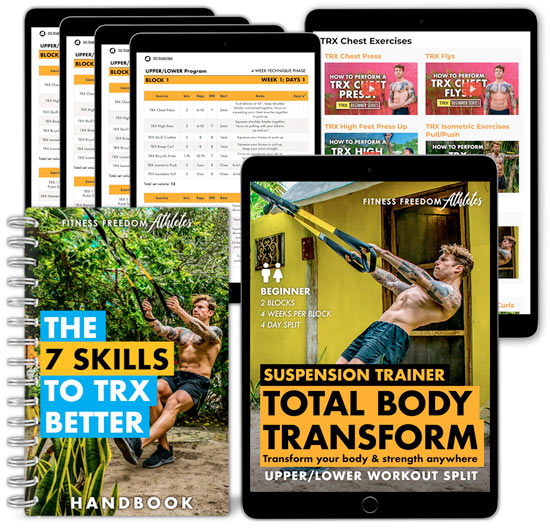 PLUS Get a FREE Copy of The "7 Skills To TRX Better Handbook" too!
FREE Instant Access!
Enter your best email below and I'll send you access to The 'Total Body Transformation Program':
🔒 Your information is never sold or shared. Ever. And is fully protected in accordance with our privacy policy. 
"YES! I'm Ready To Learn The Effective TRX Suspension Trainer Technique Right Now To Build Lean Muscle, Lose Fat, & Transform My Body! So I Never Need To Rely On A Gym Or Weights Ever Again!"
"Proven Program Teaches You How To Apply The 'Muscle-Centric' Suspension Trainer Technique For Quicker & Greater Fitness Results!"
"Here's a taster of what you'll find in the Program and '7 Skills To TRX Better Handbook':"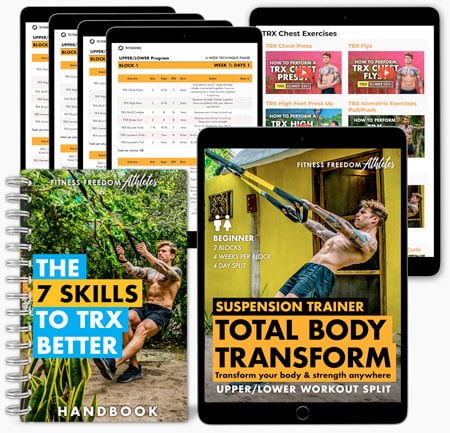 Fully digital Program accessible on any device
Develop a foundation of lean muscle & increase your functional strength with the progressive UPPER BODY / LOWER BODY Workout Plan
'Muscle-Centric' Exercise Technique Teaching Videos: Learn the proven suspension trainer technique to gain greater physique transforming results quicker and better.
Good Form & Execution Guide: Learn full ranges of motion, controlling the negative, & correct breathing. Know the training variables: Effort, Frequency, & Volume to maximise your weekly Progression.
Use the 'Warm Up For Performance Routine' to Improve and maximise your workout performance and mind muscle-connection. Along with the 'Cool Down For Focus Routine' to finish strong, grounded, and focused.
The Skill that when implemented, practised, and improved makes fat loss MUCH easier.
The '3 gears' skill of breathing and how each gear can be used within your workouts and day to day for fat loss and lean muscle building.
Claim Your Free Program Trial Today!