Unsure which Program is right for you?  
Contact Fitness Freedom Athletes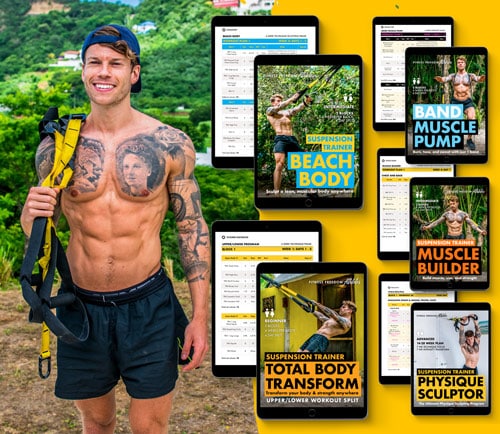 DISCOVER THE BEST PROGRAM FOR YOUR FITNESS GOAL AND LEVEL – TAKE THE FREE QUIZ!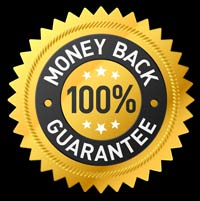 100% SATISFACTION GUARANTEE
Get a Fitness Freedom Program today. Love your results… or you pay nothing. After helping thousands of people succeed with these programs, I'm so confident that they will be the BEST Suspension Training Or Resistance Band Fitness System you've ever used that I'm willing to offer you a 100% money-back guarantee: use the Program and see the real results for yourself. If you're not satisfied with anything for any reason, you get a 100% refund. No questions asked. This isn't about the money for me. It's about the mission of helping people like you get and stay healthy for life with just one piece of equipment, anywhere.
FITNESS FREEDOM ATHLETES HAS OVER 400 REVIEWS & SUCCESS STORIES
See why thousands of people choose FFA to transform their body, ignite their energy, and enhance their health!
From people of all ages and body types all over the world
Lindsey
"It's like I've stumbled upon the holy grail"
Wes Siler
(Outside Magazine Journalist)
"Bigger shoulders, toned legs & visible abs after 8 weeks!"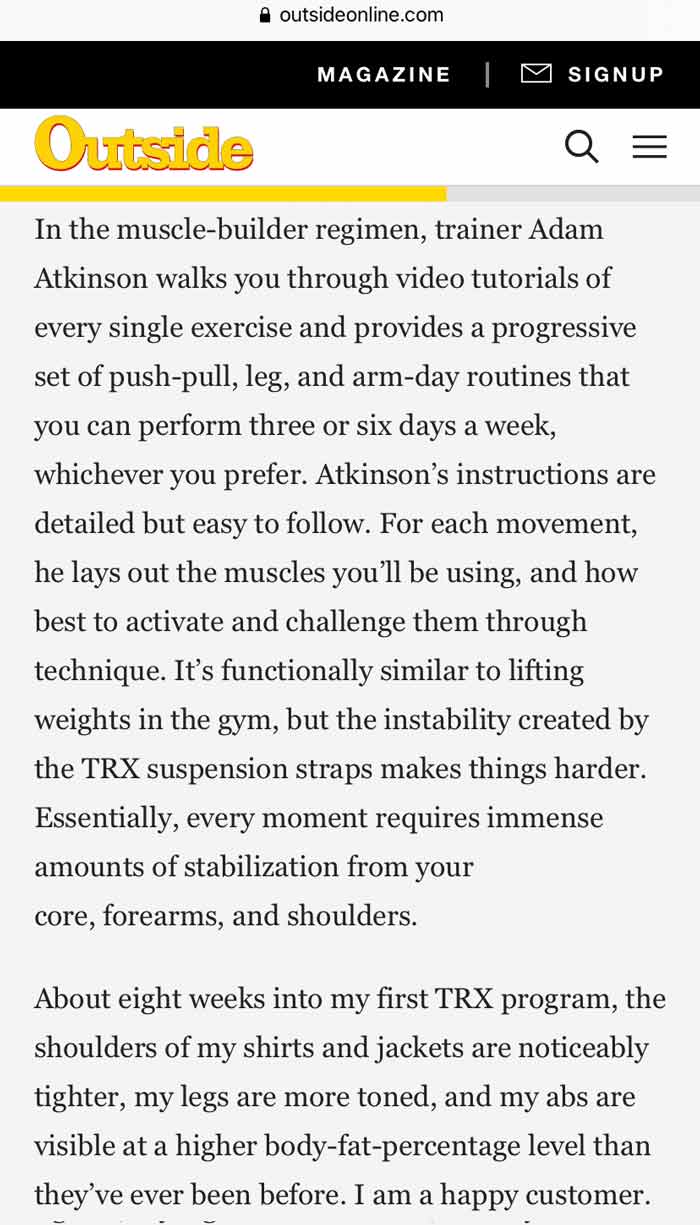 - FREQUENTLY ASKED QUESTIONS
Hide
I'm new to using a TRX or Band, where shall I start?
First up, welcome! Out of all the millions of websites out there thank you for visiting this one. Secondly, your interest and motivation will change your life. It did for me and thousands of fitness freedom athletes in our community of all ages.
The best place to start would be with the Beginner TRX Total Body Transformation Program. It's the most popular Program and will teach you the effective muscle-centric TRX technique to transform your body and begin your life-changing journey.
If you're seeking a resistance band Program, get stuck into the Band Muscle Toning Program which is for beginners/intermediates to learn the band muscle-centric technique and transform their body with just one resistance band.
Do you have any training courses or Workout Programs?
There are so many 'scammers' online, how can I trust you?
I guess at first, you shouldn't. Trust is built and earned over time. Check out my reviews and success stories so you can get a better understanding of what I am about and who I help.
Or stalk me on social so you can see that this is my passion and mission in life:
Where are you based?
I am mainly based in London, UK. But I love travelling, specifically backpacking our beautiful world and experiencing other cultures... So most likely I may be based on the side of a mountain or little beach hut. Perhaps I'll even meet you in person at some point… That would be just awesome!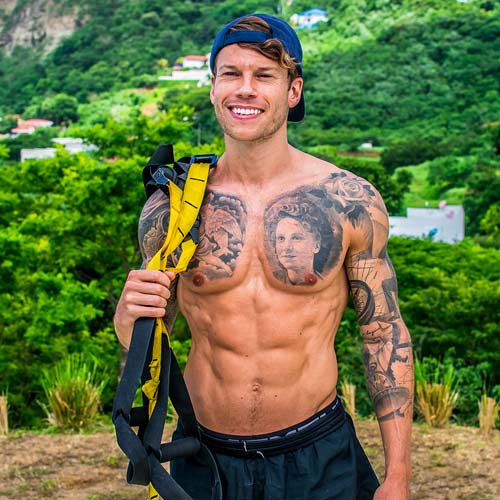 Got Any Questions Or Need Some Advice?
(Over 400 articles and posts on nutrition, mindset, performance, and TRX suspension training, bodyweight, and resistance band exercises and workouts!)
The boring but necessary disclaimer: Adam Atkinson Founder of Fitness Freedom Athletes is not a doctor or registered dietitian. The contents of this website and it's Programs should not be taken as medical advice. They are not intended to diagnose, treat, cure, or prevent any health problem - nor are they intended to replace the advice of a physician. Always consult your physician or qualified health professional on any matters regarding your health. Use of the information in this website and Programs is strictly at your own risk. Adam Atkinson will not assume any liability for any direct or indirect losses or damages that may result including, but not limited to, economic loss, injury, illness or death. All documents included or exchanged between Adam Atkinson and the Client are the intellectual property of Adam Atkinson and Fitness Freedom Athletes and are not to be copied, sold, published, posted, or redistributed either in part or in full without Adam Atkinson's written consent. All violations will be prosecuted to the fullest extent of the law.
Copyright © 2023 Fitness Freedom Athletes - All Rights Reserved