Let's talk about the right strap length for TRX suspension training exercises.
And why to a large extent IT DOESN'T MATTER!
"What TRX strap length is right for each exercise"
…is a question a lot of clients ask me.
This isn't the question to ask, the question to ask is:
"What strap length allows me to connect with my muscle using my mind and squeeze it through a full range of motion as hard and precisely as possible?"
The reason I say it doesn't matter is because we are all built differently.
We all have different biomechanics: arm lengths, ranges of motion, flexibility etc.
(Click below to watch this post as a video and I'll take you through it)
If I start dictating to you, within reason of course, that the strap length should be THIS or THAT LENGTH.
That is me assuming I know your exact biomechanics, and I don't.
So, what I say to you is:
You tell me what strap length is right for you, tell me what strap length allows you to connect best with the specific muscle we are isolating to train.
What exactly do I mean by that?
I can appreciate it sounds a bit wishy-washy?
Well, whatever strap length allows you to:
1. squeeze the muscle super hard at the top
2. get a comfortable nice big stretch at the bottom
3. allow the full range of motion for the exercise movement.
That is the right strap length for you.
Now, if we're talking about TRX Hamstring Curls
…yes you would lower the straps to the bottom.
There are types of exercises where our biomechanics don't matter as much.
But for the majority, I want you to explore and figure it out for yourself.
This natural exploration will become habitual.
If we're doing TRX Bicep Curls, you'll just know instinctively which length of works for you with practice.
For example, with the TRX Bicep Curl, ask yourself when you're doing the exercise and you've set the length:
Can I feel the muscle working?
Does this length allow me to fully extend my arms?
Does it allow me to fully curl right up and squeeze the muscle at the top to get a really powerful contraction with a bit of pull?
Can I go down comfortably at an angle that allows me to complete the rep range?
If these things are feeling good, then you know the strap length is right for you and your individual biomechanics.
I call this exploration creative fitness.
Figure out what works exactly for your biomechanics.
Because when you figure it out, you will open up the doors to unstoppable progression.
Instead of getting caught up in the questions of 'strap length?'
You can focus on placing your mind inside the muscle.
You'll find I constantly, throughout this program try to get across feeling your muscle, and thus the body, work.
Focus on placing your mind inside your muscle and focus on the full range of motion.
It's the key and we will keep referring to it as we learn and understand it.
Let's get to it!
Coach Adam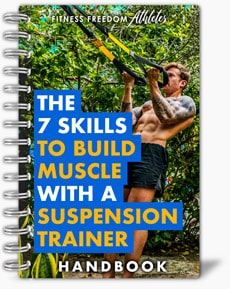 Get Your FREE Copy Of My '7 Skills To TRX Better Handbook'Beginner Level
I'll email it straight to your inbox, just tell me where to send it (the skills I teach to 1-1 clients, downloaded 30,000+):