We live busy lives.
So why not take advantage of our TRX Suspension training workout time in our space, and use it for benefiting and progressing our mental health.
Along with our physical health.
Why not see it as more than just sweating or 'working out'?!
When people ask me:
"Do you workout"
I respond with:
"No, I meditate"
When I then follow that up with the fact I haven't lifted a weight or been in a gym for over 7 years (as I write this), they look surprised and intrigued.
Our workout time should be a form of meditation. Fact.
You should only be focusing on yourself.
Be so internally focused on how every muscle feels as you train, that you don't allow your mind to wander. Or notice anything else in your environment until your workout is complete.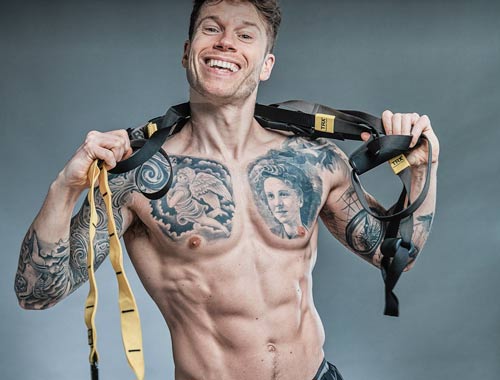 …see your workouts as a form of meditation, as it greatly helps with mental training.
Identify Glitches
If your mind does begin to wander or you get distracted… GREAT!
This is where workouts become fantastic mindful practices.
Call out that intrusive thought or distraction as a GLITCH, let it pass and re-focus your mind on your body and your workout.
The more GLITCHES you identify and re-focus, the more brain training reps you are doing.
Over many months of this GLITCH brain training, you will begin to find that letting go of intrusive thoughts that aren't in your control becomes gradually easier and habitual.
This will translate into your everyday life and will help with:
Anxiety
Stress
Procrastination
Social anxiety
Distressing emotions can be caused by focusing on intrusive thoughts that aren't in our control.
When we learn to let go of these thoughts that aren't within our control, we become more content, grounded, and happier in ourselves.
However, this requires mental training.
Whilst we can do this outside of workouts with journaling, meditation, speaking to a professional or loved ones.
I strongly advise you to see your workouts as a form of meditation, as it greatly helps with mental training.
By constantly practising to maintain one single focus on your body with the mindful muscle-connection and technique mastery, you are meditating.
You are holding one focus for an extended period of time, that is meditation.
I can honestly say from experience, that this will elevate your life, training and transformational results.
When you then combine this with mental training practice outside of workouts, such as journaling, meditation, mindfulness practices, breathing techniques etc, the mental health benefits can be exponentially awesome!
But as mentioned, we live busy lives, so it's not always possible to do this.
That's why we can utilise our workouts for it too.
Two birds with one stone.
At this advanced level I want you to be proud of not just using your TRX suspension trainer for 'working out' but improving your mental health and mind-muscle technique by connecting with your body during workouts.
The mind, body, and soul are all connected, when one element improves, so does the other.
Another planet
I often come out of my morning routine (journal – meditation – mindful workout) feeling like I've been on another planet as I've been so focused on me and my body and not anything else in this world.
I'm ready to start my day on a highly productive level from this.
This is the reason why I have been able to achieve the body I have just using suspension training and resistance bands.
And I am still learning, still practicing, and still applying.
Practising this will never end in my life, having a lean, healthy physique and being fit is just a by-product of this routine.
My focus is always on connecting mindfully with my body.
This leads to transforming it.
This is what will lead to you transforming your body.
It takes time and commitment, but it is worth it.
When this becomes a successful habit like eating and sleeping, life is elevated to another level.
My business and entrepreneurial abilities have reached new heights over the past 7 years since I started incorporating what I am explaining right now into my workouts as an ABSOLUTE, consistent practice.
Ultimately, I have become more successful in life with regards to health, relationships, and financial stability because I seek to connect my mind, body and soul as one, which has made me more productive, grounded, and focused.
I'm excited to be on this journey with you and together we'll learn and explore elevating your mindset in your training and thus your transformational results.
Let's get to it!
Coach Adam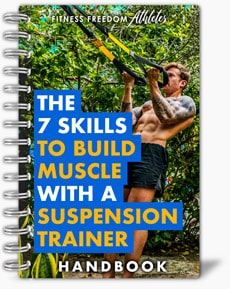 Get Your FREE Copy Of My '7 Skills To TRX Better Handbook'Beginner Level
I'll email it straight to your inbox, just tell me where to send it (the skills I teach to 1-1 clients, downloaded 30,000+):
Pin this post for later…