It's been a painful process, but the best thing that ever happened.
I hear about the struggles with fat loss and building muscle from clients before they join FFA.
Looking at a photo of me like the one below, you might think: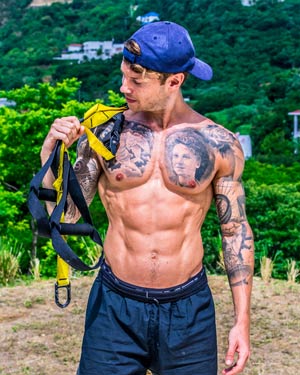 "Adam never had to deal with stubborn fat."
"He must find gaining muscle easy."
"He's using steroids."
I don't blame you.
I used to think the same when I looked at others in the fitness world.
For some, all three might be true, but not for me.
I'm not genetically gifted. As for steroids – I get healthy anxiety using a microwave. I haven't, and never will, use steroids.
The truth is, I've FAILED A LOT.
I've restricted food in take so much that I messed up my hormones.
Spent four months dieting, only to rebound in 3 weeks of binge eating.
Tried every 'natural fat loss supplement' out there, falling for marketing hype and wasting money.
Over bulked and shut my body down.
Why?
I was using a gym at the time and reading the internet and that's what people said to do.
I spent ten years failing.
Then something happened.
I LEFT THE GYM!
I grabbed a backpack and TRX suspension Trainer and went to Latin America.
What was supposed to be 8 months, was almost 3 years.
EVERYTHING CHANGED
My mindset shifted from a 'gym know it all' to a 'studier'.
I delved into research, technique, mind-muscle connection and invested in elite mentors to learn about nutrition frameworks to optimise the body, not starve it or overfeed it.
I approached fitness as a holistic mind, body, and soul journey.
Prioritising connecting with each muscle via perfect form.
My results exploded!
All with just a TRX suspension Trainer and the right technique and mind-muscle connection principles.
My mission is to share learnings from failures so you can take the shortcut and avoid the pain.
That's why I created the Fitness Freedom Athletes Platform.
Not just for TRX and resistance band training programs, but also as an educational platform to:
Optimise your body through 'evergreen nutrition frameworks' for fat loss, muscle building, and sustainable lean, and energised living.
Awaken your mind-muscle connection and turn workouts into meditation for better mental well-being.
Unlock performance mastery, understanding the finer details that lead to significant results.
Coach Adam