How my clients and I prioritise nutrition to build lean muscle and lose fat.
It's real easy to get caught up in all the surface level nutrition 'stuff':
Count calories
bulk
shred
take supps etc etc
From my experience, it's irrelevant unless your body is optimised. And working like the natural performance machine it can.
What sits below the surface at the bottom of the ice berg is our insulin resistance…
We prioritise our insulin resistance, our insulin sensitivity, and we optimise it as much as we can.
Why?…
Because that's the key to your body utilising the calories and nutrients you eat effectively.
And putting them into the muscle cells instead of fat cells.
Now how do we do that?
We have one meal a day, which doesn't contain any carbohydrates.
It only contains fat, veg and protein.
Why?
It's because it gives the body a chance to re sensitise.
Carbohydrates release large amounts of insulin.
So if you have a meal that doesn't contain any carbohydrates in the day, it gives the body a break.
It allows it to re-sensitise and we get to optimise our insulin resistance.
Ideally that meal wants to be furthest away from your workouts.
So the carbohydrates can feed your muscles after the workout.
Once this foundational basic is mastered
Then we can look at the next-steps.
Like counting calories, bulk, shed, take supps etc as they'll work 10x better on top of an optimised body.
By the way, all the Fitness Freedom TRX Suspension Trainer and Resistance Band Programs come with The Get Lean Evergreen Nutrition Blueprint.
Where I'll teach you 'The Evergreen Framework' to optimise your insulin sensitivity.
To make fat loss and lean muscle building much easier and faster.
Coach Adam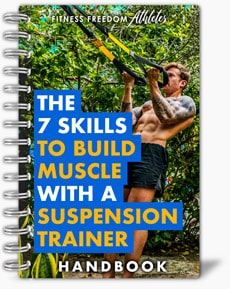 Get Your FREE Copy Of My '7 Skills To TRX Better Handbook'Beginner Level
I'll email it straight to your inbox, just tell me where to send it (the skills I teach to 1-1 clients, downloaded 30,000+):
Pin this post for later…