Are you looking to sculpt strong and defined shoulders?
In this video, I'll guide you through 2 TRX exercises that have transformed my shoulders and posture. We'll be using muscle-centric technique to help you achieve that sought-after upper body strength and aesthetics.
Timestamps
0:00 Introduction
0:26 Exercise 1: TRX Shoulder Ys
1:30 Exercise 2: TRX Facepulls
I'll demonstrate each TRX exercise with form tips to ensure you get the most out of your workout while avoiding common mistakes.
Get ready to elevate your shoulder game with these two TRX exercises.
Transform your shoulders, increase your strength, and improve your posture.
For more TRX suspension training tips subscribe to my channel and turn on notifications so you never miss a new video.
Let's get to it!
Coach Adam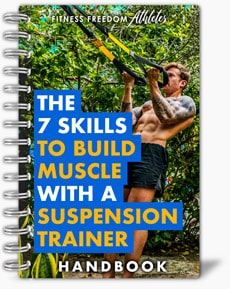 Get Your FREE Copy Of My '7 Skills To TRX Better Handbook'!
Just click the button and tell me your best inbox to send it:
Pin this post for later…