It's all good and well us looking at progressional principles!
But, we also want to see the proof in the pudding when those progressional principles are applied.
We want to see our physique change, feel our body re-energised and our mind grounded with a higher ability to focus.
These are also fascinating things for us to chat about on calls. Progression in fitness with regards to all aspects takes time.
If you can master patience within this game you will go far and achieve whatever fitness goal you want to.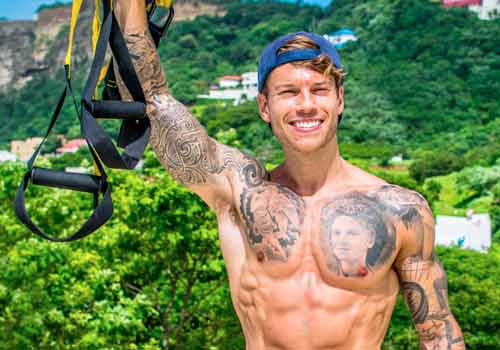 …it begins to become quite obvious which muscles you can connect with best
We can break measuring progression from our TRX suspension training workouts down into 2 areas:
1. External noticeable progression
Lean, muscle gain occurs differently for everyone because we all have different DNA, biomechanics and lifestyle.
The good thing is, when it comes down to training it begins to become quite obvious which muscles you can connect with best (mindful muscle-connection).
For me, I've always been able to connect very well with my chest and so I've always had a very prominent chest development.
It's normally the first area of my body people comment on.
However, when it comes to my legs it's taken me a long time to really practice and engage them mindfully, to really place my mind inside my quad muscles or hamstring muscles.
That's why, until the last couple of years, I've always had relative 'chicken legs' and been called out for it.
And it's valid.
I tended to 'check out' mindfully a lot when it came to leg training and just get aimed to get through it.
Over the past couple of years, however, I've shifted this and put a lot of focus into mindfully mastering my leg muscles and becoming one with them.
Since then I've added measurable inches to my thighs. And to my delight, people have also commented on the size and definition of them. Mini fist pump!
It didn't happen effectively at all, until I took a step back, and committed to going all-in on mindful muscle-centric technique with my legs.
What you may find happens to you
What you may find as you begin to progress, is that the same happens to you.
Noticeable physique changes tend to come from the arms and back for most people as they find them easier to connect with and perform effective full ranges of motion.
It's all part of the process and data collection to advance further.
Don't be disheartened if an area of your body isn't developing much. Instead, look at that and ask yourself…
"What am I actually doing when I train that specific muscle. Am I connecting or am I just moving?
Am I squeezing or am I relaxing at the top for a break? Am I following good, controlled technique or am I rushing and bouncing?"
Examine yourself like an investigator.
Often there's a common thread and thus a common misplaced focus.
Measuring changes with muscle gain:
1. Simple photos
A great way to start is by taking physique progress photos every 3-4 weeks and comparing them side-by-side.
This will allow you to detect visual differences that you simply wouldn't notice in the mirror. Snap full body in underwear:
front on hands by side
side on hands by side
back on hands by side
front on star shape
back on star shape
2. Family and friends
Simply ask them if they notice any differences. You'll be surprised when they stop and stare. What they do notice.
3. Take tape measurements of:
middle upper arm when flexed
middle of the thigh when flexed
middle of bum right around the waist
under armpits and right around the upper body across the chest
Note: These can be variable so don't get too focused on these as they may go up and down and throw you into a false sense of progress.
The photo ops and family asks are the best metrics.
But ultimately, because of the relationship between strength gain and muscle transformation gain.
The main metric I want you to use for tracking your progress overall is strength.
If you are feeling stronger and finding the exercises more comfortable and managing to follow the increasing overload progression each week then YOU ARE progressing overall and thus adding quality, lean muscle.
Stick to the TRX Workout Program and trust in it.
The physical external results will follow this.
Measuring changes with Fat loss
Weighing yourself each day and then dividing the total by 7 at the end of the week to get your weekly average is a good way to monitor your weight.
This is super useful data for later down the line and a good habit to get into.
An easy app to record this is called 'happy scales'.
It will record and display your weight in useful data visualisations and show you your weekly average.
Weight is goal dependant
If you are doing a lean and sculpt, you would look to maintain a steady weight. Keeping it relatively level and consistent.
Why?
Because we're allowing for the metabolic adaption to take place:
Gaining muscle, which will add weight to the scale
…whilst also simultaneously burning fat which will decrease weight on the scale
Meaning your body composition will slowly change over time and fat weight will be replaced by lean, healthy muscle weight.
With fat loss and weight loss goal, we would want to see the scale gently decreasing week to week.
I understand weighing yourself each day may seem a hassle or you may perceive it as a negative.
I challenge you to flip the view of weighing yourself and see it as an energy, a workout motivation.
Or on the other side, completely detach yourself from it and see it purely as data.
Data to record and look back on to reflect. Knowing your weight and how it fluctuates from:
The different hormones released when we are stressed and calm
Menstrual cycle
Salt
Nights out
Under/overeating due to lifestyle
Holidays
… is insightful information and can stop you from panicking or going off course later down the line.
The more you see how your body reacts to different scenarios and how it levels out again, the better equipped you'll be to diet with a calorie-counting plan.
Or gain lean muscle mass (overall size) without gaining fat.
Knowing one's body, knowing thy self, is a wonderful thing to do.
We are scientists and the more data we collect about our own body the faster and more effectively we can progress for our own individual goals and needs.
2. Internal less noticeable progression
Internal changes with Fat Loss
Fat loss is of course all about following a successful diet & nutrition plan. Even then, fat loss is a funny one.
Again, due to genetics and lifestyle, we all have different areas/pockets of fat that our body likes to store in.
Along with that, we have internal fat between muscle fibres and organs.
Often you can see noticeable fat loss from a physique transforming point of view and then suddenly it just stops and nothing seems to change for a long time.
This is because the body is magnificent.
It will dive into a fat store that's closer to the skin, hence the noticeable difference, then it may decide to look internally for fat to burn as energy.
This you don't see.
This is why they say you can never see too much of a difference between people's physique when they have 11-15% body fat for a male, 18-22% for a female.
The body seems to love diving internally for fat stores at these points so you don't notice much changing on the outside.
When you get to below these levels, it's like BOOM! So much change and so fast.
This is nothing we need to dive deep into now. Just something beneficial to know for reflection.
The easiest way to measure body fat is the pinch an inch method every 3-4 weeks:
Pinch your sides just above your hips
This is the fat we want the body to eat into and when the body is healthy and functioning well from good nutrition, lean muscle mass development and our 3 foundational pillars being optimal (sleep, stress, gut health)…
It does eat into this and it does burn it.
Keep it simple and pinch that inch every so often.
Internal changes with how you feel
How do you feel throughout your workouts and how do you feel in general from the TRX Suspension Trainer Program?
A tough one to measure but just as important. Here are some measuring aspects to think about:
1. Logbook
Keep a logbook of how exercises feel or print out the workout plan and scribble at the side of the plan what you found difficult or easy each day to reflect on.
Then at the end of each week of the workout plan jot down how you've felt this past week after working out.
Have you felt energised and more confident?
Or have you felt tired and irritable?
Both can be led by balancing the right nutrition and foundational pillars (sleep, stress, gut health) with your training.
These little weekly check-ins are a great source of data to look back on and cement the beneficial reason of 'why' you are working out each week in your subconscious.
Further connecting and reaffirming the mind-body and soul to work as a whole, to transform as a whole.
Let's get to it!
Coach Adam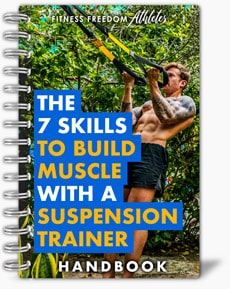 Get Your FREE Copy Of My '7 Skills To TRX Better Handbook'Beginner Level
I'll email it straight to your inbox, just tell me where to send it (the skills I teach to 1-1 clients, downloaded 30,000+):
Pin this post for later…